StrikeCheck Releases 2019 Annual Claims Report
Data on Key Claim Trends Grants Carriers Exclusive Opportunity to Control Claims Leakage
StrikeCheck's 2019 Annual Claims Report identifies an array of opportunities for carriers to control claim leakage while maintaining customer satisfaction
CHARLOTTE, N.C., March 6, 2019 — StrikeCheck, a leading provider of electronics damage assessments for Property & Casualty insurance carriers nationwide, announced the release of its 2019 Annual Claims Report today. The statistics featured in the report can help carriers make data-driven decisions and highlights areas where they can improve claim leakage control.
The 2019 Annual Claims Report is distributed to insurance carriers nationwide and summarizes data derived from thousands of residential and commercial claims from all 50 states referred to StrikeCheck in 2018. The report examines claims trends in multiple electrical equipment categories from all causes of loss. Lightning was the most frequently claimed peril in 2018, with TVs and refrigerators as the top claimed electrically powered items. The 2019 Annual Claims Report also spotlights larger equipment such as solar panels, generators, pool equipment and other high-value items that are essential to evaluate, as they are often repairable.
"This year's report demonstrates that without establishing the repairability of equipment or verifying that it was damaged by a covered peril, carriers are risking significant claims leakage," says StrikeCheck Vice President of Claims Reza Nikrooz. "It also emphasizes the need to verify that items are actually damaged before paying on any claim. In fact, last year, 16% of claimed items were in proper working condition at the time of our assessment."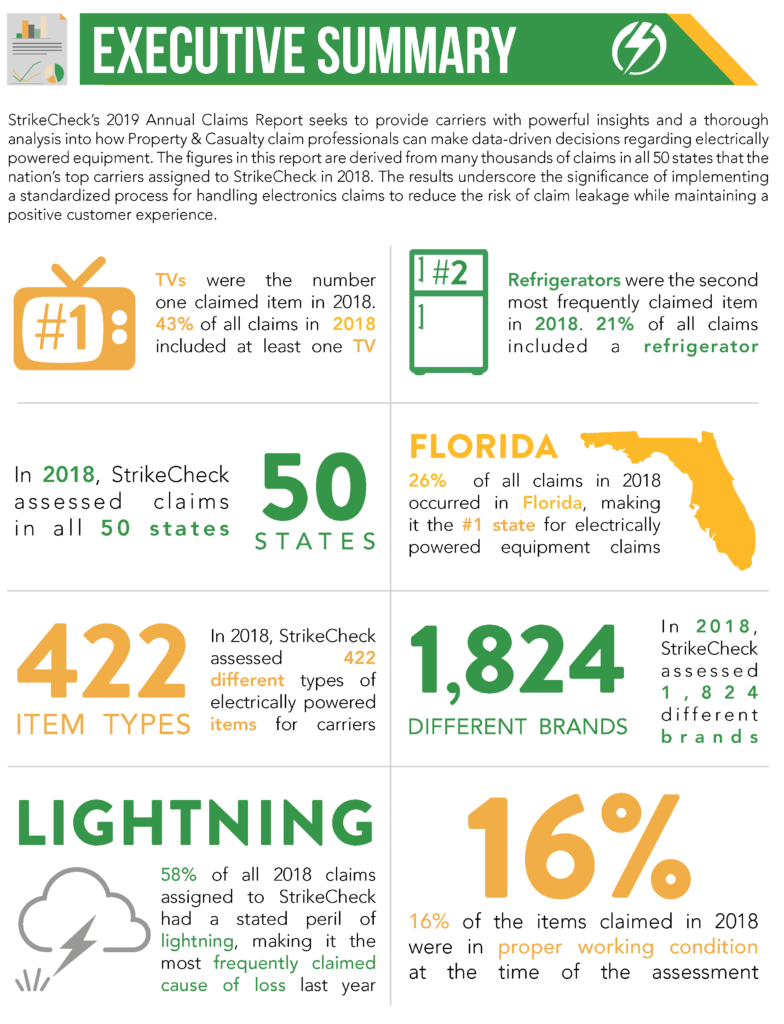 The risk of claims leakage is even greater following catastrophic events. 2018's major hurricanes, Florence and Michael, led to an extraordinarily high number of claims for items that were determined to not have been damaged by a covered peril. With the increasing frequency of large-scale catastrophes, it is imperative to involve a third party expert to control claim leakage without negatively affecting customer satisfaction. A qualified expert can help carriers decrease their cycle times during periods of high claim volume while reducing claim leakage by verifying repairability and cause of loss.
This report is free to insurance claims professionals and can be accessed by requesting a copy here, or by emailing education@strikecheck.com.
StrikeCheck investigates electronic and specialty contents claims, exclusively on behalf of insurance carriers, nationwide. We boast the industry's most comprehensive manufacturer relationships and experience across thousands of investigations annually, delivering cost-effective, comprehensive solutions for complex claims. To learn more about our services or to submit an assignment, visit strikecheck.com, email claims@strikecheck.com, or call (888) 980-8544.