How Desktop Reviews Support Accurate Claims Settlements
Even claims that seem cut and dry with an obvious cause of loss and scope of damage can increase a carrier's claims leakage. This has negative impacts for insurance companies and policyholders.
Desktop review services can reduce this risk and ensure claims that don't require onsite assessments are settled quickly and accurately. Adjusters find them helpful to verify that any necessary replacements and repairs are of Like Kind and Quality (LKQ) and that the settlement is in line with market values for the loss and location.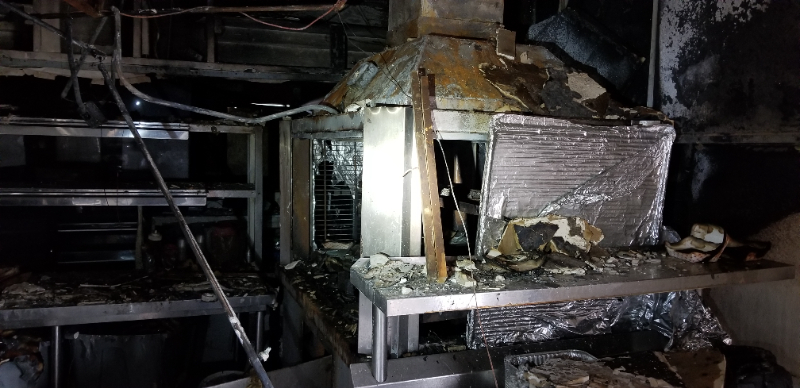 Smoke and fire claims may make replacement equipment the best solution. However, desktop review services guarantee settlements are for Like Kind and Quality equipment at market value prices.
Situations Where Desktop Reviews May Be Beneficial to Settle Claims
Desktop review services are most frequently used when it is evident the policyholder must replace equipment that was damaged by a covered loss.
Adjusters also find them beneficial in other situations:
To better understand contractor invoices: Information provided by the policyholder's contractor can be confusing. Little detail may be provided, such as the breakdown of the costs related to parts, labor, taxes, and fees. During a desktop review, your claim support should speak with the contractor to find out more information; therefore, adjusters don't have to.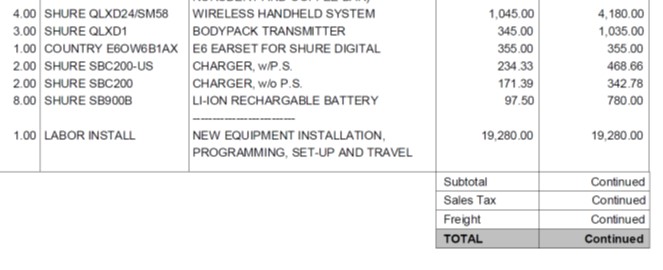 Contractor estimates are not always this detailed and can be confusing. Adjusters should have someone else contact the policyholder's contractor to resolve invoice questions.
The equipment has already been replaced: Policyholders occasionally have purchased and installed replacement equipment before someone can evaluate the old one. If the claimed equipment remains on the property, it is critical to still have an objective expert evaluate cause of loss and scope of damage to confirm a replacement was warranted. If the policyholder has already removed the equipment, desktop review services can verify that the replacement is LKQ.
When the settlement hasn't met a certain threshold: Carriers have their own rules on what requires an onsite assessment. For example, if lightning was confirmed in the area or if the claimed settlement doesn't meet a certain cost, it may be more appropriate for adjusters to settle the claim without further evaluation. Desktop review services guarantee the claimed amount is in line with market value pricing for the equipment and loss location.
Components of a Comprehensive Desktop Review
Desktop review reports should give adjusters an overall determination of whether the insured's claimed repair and replacement costs are in line with market pricing and equipment. They should note the pricing variance, reflecting the difference between the total of the insured's quotes and market pricing. Reports should also provide recommended settlements and LKQ equipment verification.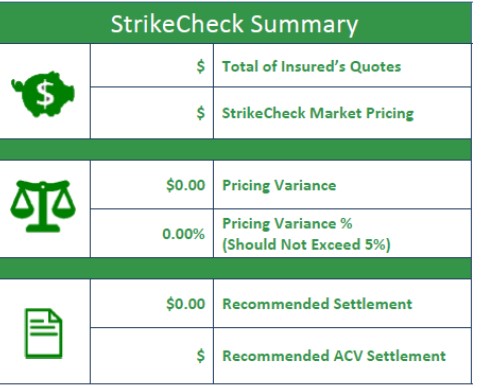 Reports should include an easy-to-read summary for adjusters.
Qualities every desktop review should have include:
Flat-rate pricing to alleviate unexpected expenses
Quick cycle times
Comprehensive reports with the necessary information
StrikeCheck is the nation's leading provider of assessments for electrically powered equipment and specialty items. We have a team of experts that excels at providing objective and comprehensive onsite evaluations and desktop review services to support carriers in making more accurate claim resolutions. Find out more about StrikeCheck's services or submit a claim to receive your desktop review or your onsite assessment report in a few business days.