What Perils to Expect from Washer and Dryer Claims
It's time to air your policyholders' dirty laundry. Nearly 30 percent of all washers and dryers included in claims last year were non-damaged at the time of StrikeCheck's assessment and could have led to unnecessary settlements had adjusters not verified cause of loss. As for the other 70 percent, read on to better understand which laundry equipment may be more susceptible to certain perils and why.
Failures to Top Load and Front Load Washers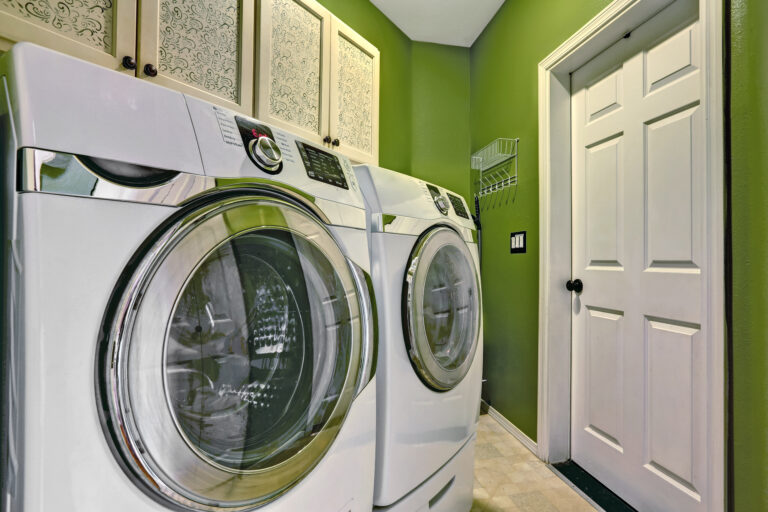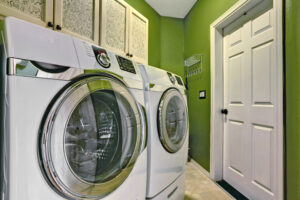 Front load washers and dryers have become more popular because of their advantages.
Washer manufacturers have increased their efforts to improve energy efficiency, water efficiency, and use of technology over the years. Some of that may have impacted losses.
Front load washing machines have their advantages in that they use less water and are more energy-efficient than top load machines. However, these require more maintenance. In contrast, top load washers use more water and detergent, are loud, and require more space for installation. Top load machines are further categorized as having agitators, which are the posts in the center of the washer that shake and force water around the drum, or having impellers, which are fins or discs that spin to rub clothes against each other.
Regardless of type, high voltage surge, water, and wear and tear were the perils that caused the most losses to laundry equipment that StrikeCheck assessed last year.
High voltage surge losses, which StrikeCheck experts confirmed most often during washer assessments, can affect all electric components in a washer. Surge fluctuations impact control boards, circuits, digital displays, and the timer assembly.
Water was the second-highest cause of loss for laundry equipment that StrikeCheck assessed last year. Water-related incidents can result in severe damages to both the washer and surrounding property. Between 2016-2020, water damage and freezing also accounted for the second largest share of claims, according to recent data from the Insurance Information Institute.
Flooding or leaking washing machines may occur when supply hoses crack, loosen, or deteriorate. Other reasons for washer leaks are floor drains clogged with debris and lint, cracked or perforated internal hoses, and malfunctioning pumps. Cracked or ripped door boot seals on front load washers can also lead to water damages. Many of these failures are results of lack of maintenance or wear and tear, which aren't typically covered by an insurance policy; however, losses stemming from these damages may be.
Electric and Gas Dryer Damages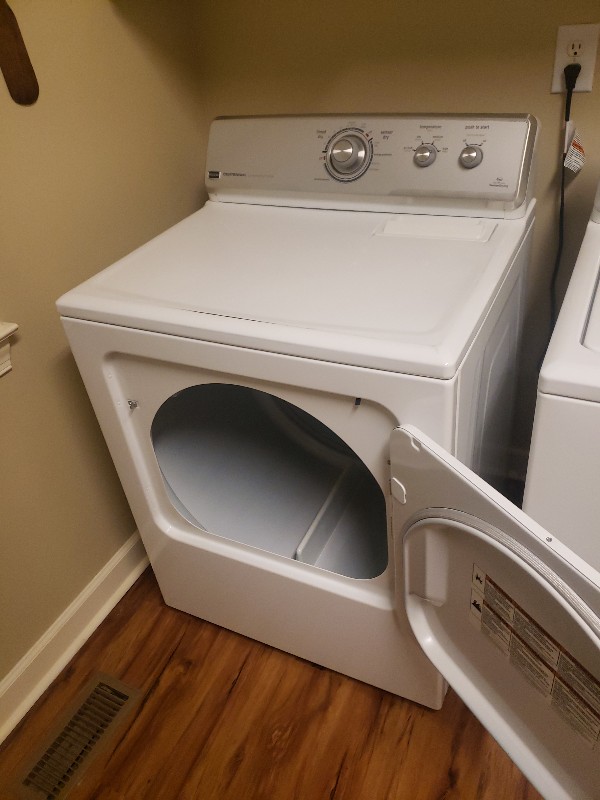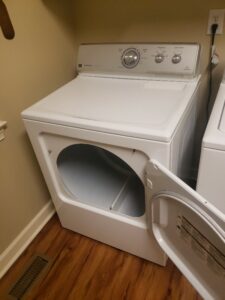 Electric dryers are susceptible to similar perils as washers, including sustaining damages from surges and wear and tear.
Residential policyholders also have a choice for dryers – electric or gas.
Gas dryers are more energy efficient because they dry clothes more quickly and use less electricity than their electric counterparts. However, gas dryers require a gas hookup, are often more expensive to purchase and maintain, and must have proper ventilation. Electricity powers the lights, controls, drum, and fan, while gas is utilized to produce the heat required for normal operation. Policyholders should know that two considerations for gas dryers are that the natural gas line may leak, increasing risk for fire or poisoning, and that they produce carbon monoxide, making proper ventilation critical.
Electric dryers are more common because they are often more available and cheaper than gas dryers. Equipment requires a 240-volt outlet, though more time and electricity are required for each load. Electric dryers still usually need vents to the outdoors and need routine maintenance such as changing belts and filters to lessen wear and tear impacts.
StrikeCheck found that high voltage surge, water, and wear and tear were also the most common causes of loss for dryers. Like washers, dryers have many electrical components, such as the control board and digital display, that are susceptible to damages from voltage fluctuations. Door and lid locks, belts, and motors require maintenance to avoid malfunctions from wear and tear. Water losses may result from other circumstances, such as a nearby leaking washer.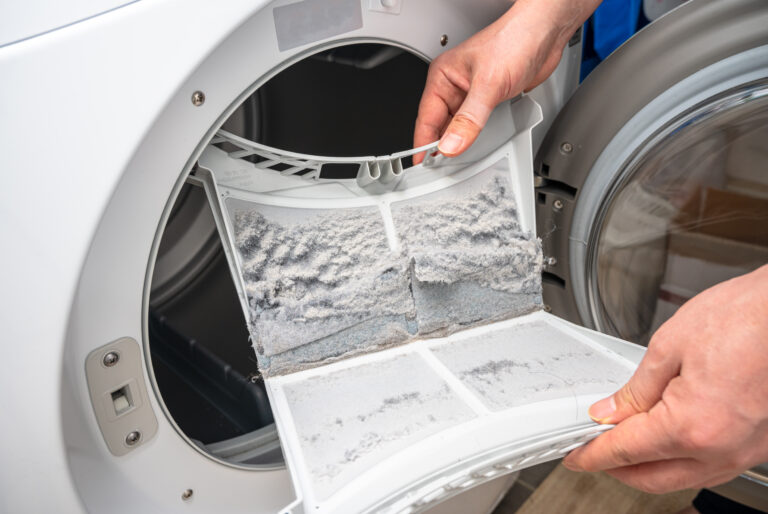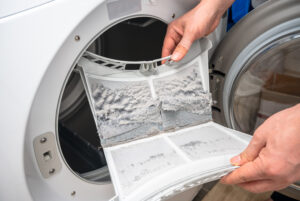 Removing lint from a vent and providing regular maintenance can help prevent dryer fires.
A peril more directly linked to dryers is fire. Clogged lint traps and vents are among the leading causes of dryer fires, which most often occur during fall and winter months. According to the U.S. Fire Administration (USFA), 2,900 residential clothes dryer fires are reported annually and lead to $35 million in property losses as well as deaths.
Following correct installation, cleaning, and maintenance guidelines can help prevent dryer-related fires. The USFA recommends having dryers installed by professionals, using proper plugs and outlets, cleaning the lint filter before and after each load of laundry, cleaning the vent pipe quarterly, and regularly inspecting the dryer to help avoid fire losses.
High voltage surge, water, fires, and wear and tear can all lead to washer and dryer damages. But don't forget, it's just as likely for equipment included in claims to be non-damaged. Avoid settling claims for unnecessary replacements. The experts at StrikeCheck enable adjusters to make more accurate settlements by providing comprehensive assessments with cause of loss determinations, repair and replacement recommendations, and appropriate settlement recommendations at market value pricing.
Dealing with a claim that includes washers, dryers, or other electronics and specialty items? Submit a claim to StrikeCheck.