6 Questions to Ask Before Settling Electronics Claims: A Practical Guide to Accurate Settlements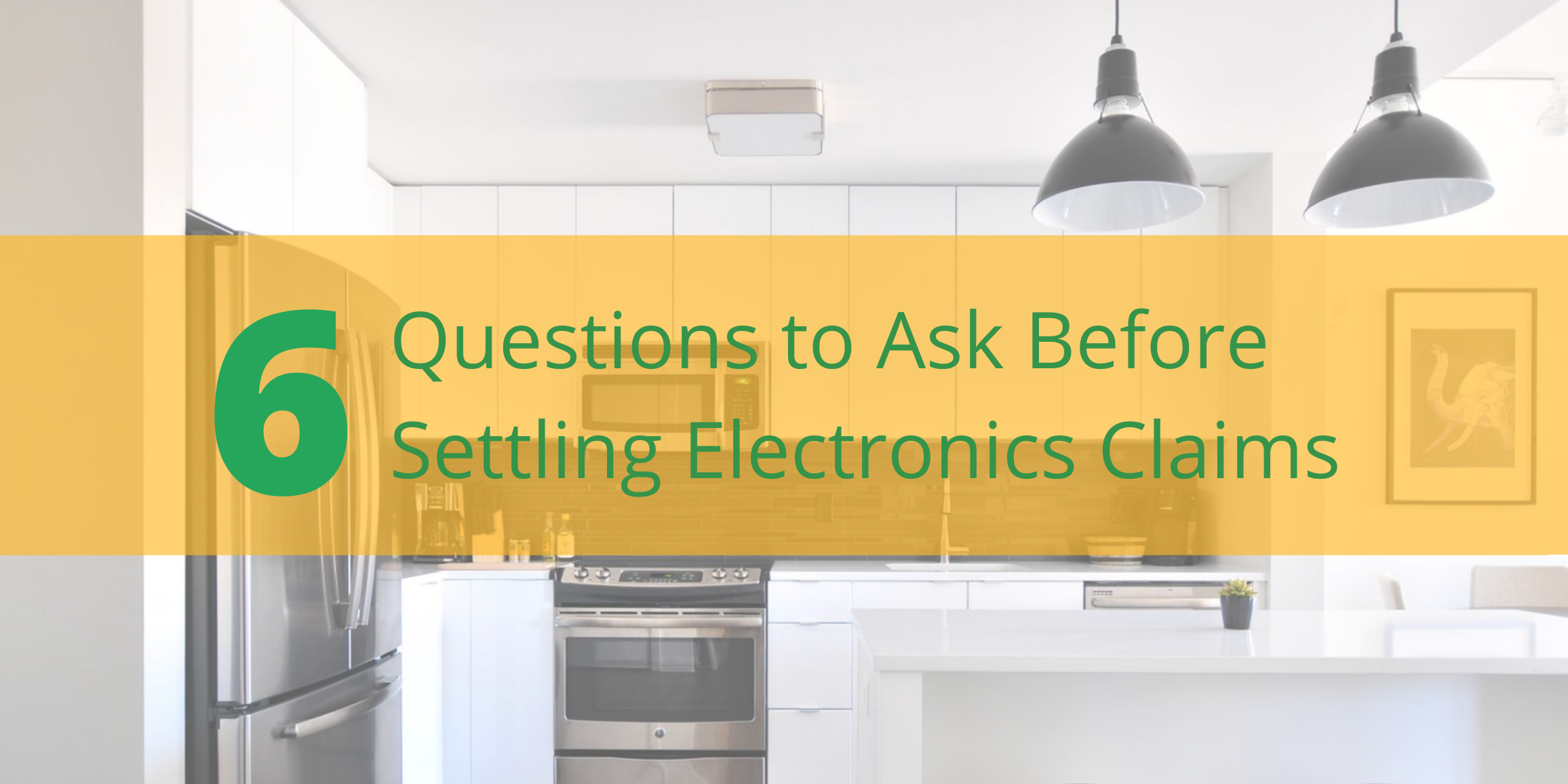 Claims with electronics and other electrically powered items can be difficult to settle because such a variety of items falls into that category – from appliances to office equipment, generators to pool pumps. Here are some questions adjusters should ask themselves to know if they may need support to ensure these types of claims are settled quickly and accurately.
1. Are You Familiar With How the Equipment Works or What Damages Are Common For It?
Policyholders use hundreds of different electronics in their homes and businesses, and each can appear in claims. Someone who works with the equipment regularly and understands its components and how they function would be the best resource to complete any required assessments.
Having a subject matter expert as part of the claims process will guarantee the most accurate diagnosis is determined so that there is a proper course of action to return the policyholder to pre-loss condition.
2. Has Each Item Been Evaluated by an Objective Professional?
If possible, every electronically powered item, regardless if there is only one or dozens included in the claim, should be thoroughly assessed by an objective professional before a settlement is made. This confirms the findings aren't swayed by a bias like needing to sell full replacements rather than making small repairs. It also means an adjuster isn't settling for non-damaged items or damages not covered by the policy.
3. Are You Certain About the Cause of Loss, And Is It Covered in the Policy?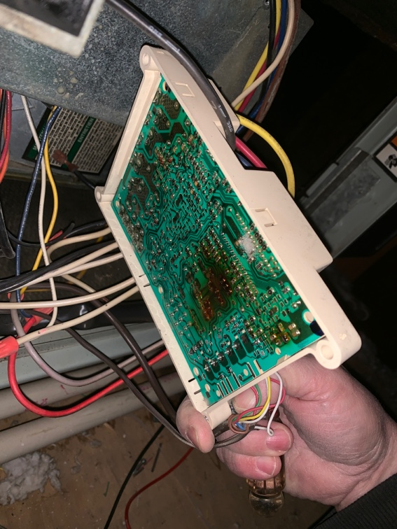 Lightning, high voltage surge, or wear and tear could have damaged this control board. Being able to determine the cause of loss makes the difference for settling claims accurately.
Policyholders don't always know the cause of loss or are guessing about what it could be. Claimed perils are frequently recategorized after an onsite assessment based on the technician's testing results and looking at the damages and equipment characteristics. Knowing the actual cause of the damage could help determine what the next best steps are because some perils are more likely to require a replacement than others.
Confirming the cause of loss also ensures adjusters aren't settling for non-damaged equipment or a peril that's not covered by the policy. The StrikeCheck team determined that nearly a quarter of the equipment that was evaluated last year was working properly at the time of assessment or was damaged by wear and tear, which isn't typically covered by a policy.
4. Does the Scope of Damage Warrant a Replacement?
Contractors frequently recommend replacements when a repair would be a more appropriate solution. It's important adjusters get the assessment results that demonstrate why repairs aren't applicable before settling for a replacement. In some cases, repairs are possible, but the labor costs or depreciated value of the item makes it more cost-effective to purchase a replacement.
Adjusters should understand the costs for both repairs and replacements and know what the best action is based on the damage. The cost difference between a repair and a replacement for both a carrier and the policyholder is typically large and may be able to be avoided.
5. Is the Proposed Equipment Like Kind and Quality? Is it Priced At Market Value for the Loss Location?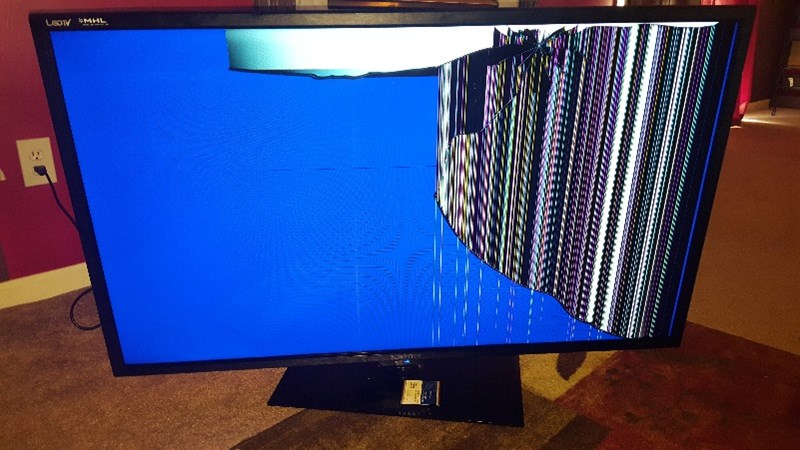 Sometimes replacements are inevitable, but adjusters should confirm the policyholder or contractor isn't asking for too much in settlement costs. Verify the proposed new equipment is of Like Kind and Quality and priced at market value – or get a desktop review that can.
Sometimes the policyholder has already replaced the appliance or other electrical equipment before it can be assessed, or an onsite assessment determined a replacement is necessary. It's important adjusters take the (short) time to verify the recommended replacement is of Like Kind and Quality (LKQ) and that it's priced at market value. Being LKQ means adjusters aren't settling for equipment that isn't as good as what a policyholder had originally or is considered a betterment to what was initially there.
Adjusters who aren't confident about the recommended replacements should use resources, such as desktop reviews, that can verify if the equipment is LKQ, if it's available, and what the appropriate equipment and labor costs are. Verifying that market pricing and labor costs are consistent with the loss location yields more accurate settlements.
6. Do You Have Processes in Place to Handle the Claim Consistently and Efficiently?
Carriers, insurance professionals, and those handling the assessments should have processes in place to maintain consistency and accuracy for every claim. Each claim being handled thoroughly and in the same way will make certain all the needed information is provided, all data is verified, and that the settlement is as accurate as it can be to avoid potential claims leakage.
Efficient practices can make the overall claims process easier for insurance professionals and for the policyholders. Insureds should know where their claims are in the process and trust that they're being handled accurately and quickly.
Don't Feel Like You Have to Go Through the Claims Process Without Support
Adjusters, as you were answering those questions, did you find yourself shaking your head or questioning if you really do have all the information you need to correctly settle a claim that includes electronics and other specialty items? Every no answer may be an indication that additional support from an objective, knowledgeable third party is necessary.
StrikeCheck is the nation's leading damage assessment provider for electronics and specialty equipment. We have experts across the country who provide comprehensive and thorough claims assessments that determine cause of loss, scope of damage, and the appropriate course of action to return a policyholder to pre-loss condition. Our professionals can also provide desktop reviews to verify replacement equipment is LKQ, available, and has been priced in line for the market. Each service is carried out anywhere in the United States in only a few business days.
Get all your questions answered to settle claims confidently and accurately by submitting a claim.