Finding the Correct Cause of Loss in Hot Tub Claims
Many homes in the United States feature outdoor hot tubs, which are a popular resource for recreation, hydrotherapy, and relaxation. Unfortunately, hot tubs are susceptible to perils, including high voltage surge to their electronics, freeze damage during cold winter months, and other weather-related causes of loss. When a hot tub malfunctions, the policyholder may file a claim for an expensive full replacement. Adjusters should know a little about hot tubs, their components, and their losses, before settling these types of claims.
Types of Hot Tubs
A hot tub is a small above-ground or in-ground pool of water that is heated and/or jetted to provide comfort. Their average standard operating temperature is around 100-104 degrees Fahrenheit.
In-ground units, often called spas, are usually custom-built into the ground close to a swimming pool and may be larger than residential models. They are commonly found in commercial settings, such as hotels or gyms. They're generally made of concrete or tile.
Residential hot tubs can be simple, inflatable units with or without jets that can be emptied and moved easily, allowing for indoor storage when not in use. Hard-shell hot tubs are above-ground units that may be built into a deck or another similar structure. They are often called self-contained hot tubs because their pipes, pumps, and electrical controls are built into the unit. They don't require any connected plumbing but can be filled with a garden hose.
Hard-shell hot tubs are generally made of acrylic shells with single layers of foam insulation, have more jets than in-ground spas, and are easier to maintain. They vary greatly in price, size, features, engineering, overall quality, design, and efficiency, which makes it critical for adjusters to ensure they are settling for Like Kind and Quality equipment when replacements are necessary.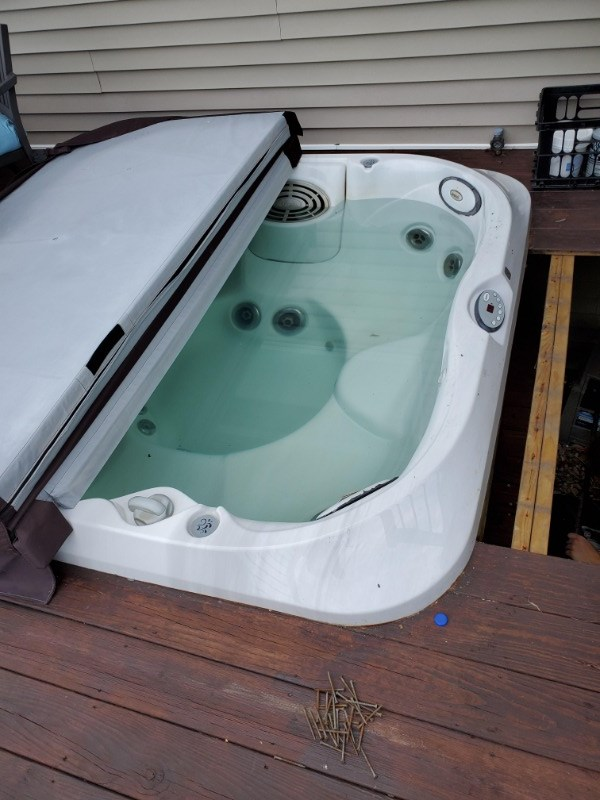 A hard-shell hot tub in a deck
Common Hot Tub Components
These hard-shell hot tubs have many electronic components that are often included in claims and require expert assessment:
Control packs, which control the functions and equipment in hot tubs
Control panels, which facilitate communication with control packs
Air jets and/or hydro jets
Pumps
Skimmers/filters
Heating units
Electrical disconnects, such as breakers or fuses
Hot tub electrical components are particularly susceptible to high voltage surges, the most common cause of loss to hard-shell hot tubs. However, policyholders and contractors who aren't familiar with the signs of high voltage surges may not be able to determine the cause of loss.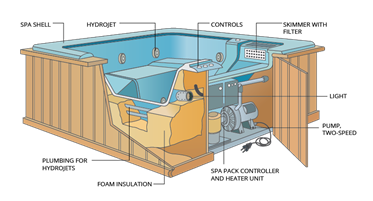 Interior view of a hot tub showing its components and electrical equipment
Hot Tub Losses
Policyholders and contractors generally report electronic losses as lightning damage, but very few claims are related to a direct lightning strike. Due to the complex nature of electronic equipment, the reported causes of loss in electronics claims are often inaccurate and should be verified. Last year, 65% of perils reported in electronics claims were recategorized following a comprehensive assessment, according to the CCG IQ 2021 Annual Report. Furthermore, according to the annual report, 33% of all electronics claims were determined to have a typically non-covered cause of loss, such as wear and tear.
A full hot tub replacement is often unnecessary. The average full replacement cost for a hot tub claim is $11,721. However, the average repair cost is only $1,054. That's an average accuracy of $10,667 per hot tub claim. Carriers may experience significant claim leakage if equipment isn't assessed by experts.
Let's look at two real example of how an expert assessment can equip an adjuster with actionable intelligence when settling claims.
Accuracy in Action
A policyholder filed a claim for a residential hot tub that malfunctioned during the winter months. Due to the season, the policyholder suspected that the unit had sustained freeze damage. However, the hot tub didn't display characteristic freeze damage, like cracks in the acrylic shell, pipes, valves, or pump assembly. Electrical testing showed that the transformer had sustained damage from a high voltage surge, and the transformer smoked when energized. Replacing only the control pack would return the unit to pre-loss condition. The hot tub itself was 16 years old, but Like Kind and Quality control packs were still available.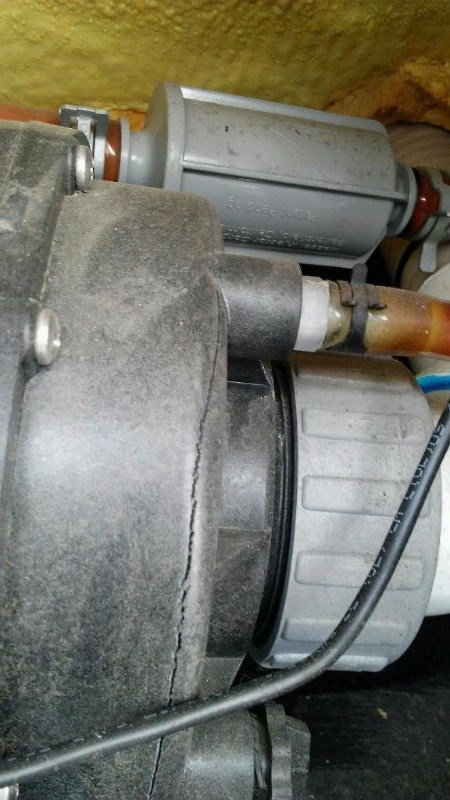 A cracked hot tub pump consistent with freeze damage
Policyholders often file claims following catastrophic events. Adjusters shouldn't assume that's the cause of loss and should verify it before settling a claim. One policyholder experienced a hurricane at their home. High winds caused significant damage to the roof and chimney, and the screened porch had collapsed around their hot tub. After the storm, the policyholder discovered that the hot tub was leaking and suspected that this damage was also related to the hurricane. However, a comprehensive evaluation determined that there wasn't damage to the cabinet, cover, or shell that was consistent with wind damage, foreign object impact, or any other typically covered peril. The actual cause of loss was age-related wear and tear, which is not typically a covered peril.
Adjusters must verify the cause of loss to ensure equipment included in claims is malfunctioning and that it was damaged by covered perils. This prevents the carrier from having unnecessary claims leakage. Establishing the cause of loss can be a challenge when specialized electronic equipment is involved. The StrikeCheck team has the expertise to verify the cause of loss and scope of damage, and to make recommendations to return equipment to pre-loss condition. StrikeCheck's average cycle time of 5 business days for residential claims ensures that adjusters can settle claims quickly with everything they need.
Submit a claim to StrikeCheck to ensure your next hot tub claim is settled accurately.